FAQ
WHAT'S PAINT THE TOWN ALL ABOUT?
Paint the Town is all about the fun (Paint Parties)!  Enjoy yourself as our artists guide you through the steps of creating your own masterpiece … we'll have breaks along the way allowing the paint to dry and you to enjoy our full bar.  At Paint the Town. music, laughter and a great time can be expected.  We dance too!
CAN I KEEP THE PAINTING?
At the end of the night you will leave with your own masterpiece. The paint dries fast, but you will want to be careful on the way home as it usually takes 2 to 3 days for a painting to fully cure.
HOW MUCH DOES PAINT THE TOWN COST?
All our prices are posted on our pricing page … click here to go to Paint the Town pricing.
HOW DO I REGISTER FOR A CLASS?
It's easy … Visit the Calendar Page and find the time and painting you want to paint. Once you have, either picked the painting or a time you wish to attend, go to the reservation page and reserve your seat.  Be sure to do it as soon as possible. We can only seat 48 and the seats fill up quickly.
WHAT IF I NEED TO CANCEL?
Paint the Town understands that life happens. So if something does come up, please notify us at least 24 hours in advance. Just send us a note via our webpage, or email us at PaintTheTownComo@gmail.com.
WHAT TIME SHOULD I BE AT PAINT THE TOWN FOR MY CLASS?
The classes are at Paint the Town in The Broadway Shops (2703 East Broadway, near the intersection of Hwy 63 and Broadway). We have plenty of parking and the painting starts at the scheduled time, so it's best to arrive at least 15 minutes early.  Feel free to come in early and stay late. We have a full bar and great music. By the way, acrylic paint loves clothing and fabric; it will not wash out once it's into the fabric of your clothes. Don't over dress and be sure to use our aprons to protect your clothing.
CAN OUR GROUP SIT TOGETHER?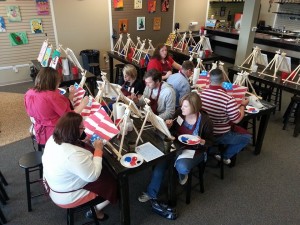 Not a problem … just have one member of your group go to the reservation page and reserve your spots. We'll make sure your seated together.
DO I HAVE TO PAY WHEN I RESERVE MY SEATS ONLINE?
No, Paint the Town will collect the painting charges upon your arrival. We accept most all forms of payment. Once you arrive, go to the check in counter and let us know you're here.  At that time we will supply you with brushes and help you find your seats
DO WE HAVE TO FOLLOW ALONG, OR CAN WE DO OUR OWN PAINTING?
Uncork your creativity! You are welcome to follow along with our artists, or create your own masterpiece. We'll be there to help. In addition, Paint the Town will be open for "open painting" sessions. If you are feeling creative and want to do some painting, just drop in, purchase your canvas and feel free to use our paints and brushes. The Full Bar will be available at those times as well.
THIS DOESN'T SEEM LIKE SOMETHING I CAN DO. I'M NOT AN ARTIST?
Not a problem. Paint the Town is designed for anyone wanting to be creative. We'll be there to help and the classes will walk you step by step through the process of creating your own masterpiece. Plus the "liquid inspiration" of our Full Bar will help ease you into the process.
ARE KIDS WELCOME?
Kids are welcome to Paint the Town!  We specialize in parties and much more!  We would like to suggest that you not bring children to our 9:30 PM classes, they can be more adult orientated.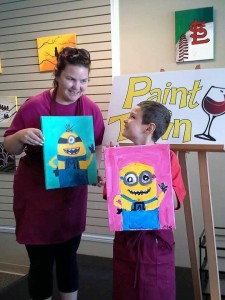 CAN KIDS ENJOY PAINT THE TOWN?
We offer a variety of children friendly sessions and party ideas.  We can even create a specific painting for your child's special event.  If you like we will even pre-draw your canvas to make the painting more enjoyable.
WHAT DO YOU MEAN BY "FULL BAR"?
We will not only be offering beer, wine, soft drinks, and water, we will also offer mixed drinks, some special martinis, special wines (and wine events) and other specialty drinks. BYOB is not allowed.