Team Building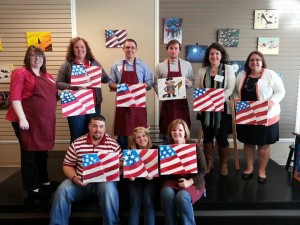 Looking for that special event to help create more communication and teamwork at work?  Helping your team work together more effectively?
Paint the Town offers private team building sessions that are crafted to promote solid communication skills.
Lead us to where?  Both the team leader and team member will be given the opportunity to instruct the group on how to complete their painting … WITHOUT SHOWING THE GROUP THE ORIGINAL PAINTING.  Using only their communication skills, they will be asked to help the group create their paintings.
Tag Team.  This team building event is structured to develop solid teamwork.  Each group will be tasked to create a painting.  But the artists will rotate by time or color.  Working together to create their masterpiece.
Side by Side.  This team building event is structured to develop teamwork and communication skills.  Each team member will be given a painting to create, but each team members painting will need to connect to their team members painting.  So that when all the paintings are set side by side, they create one larger painting.
Open Painting.  This team building event is designed to give the team time to be together without the stresses of their day.  Allowing them to relax in each others company and enjoy their time together.
Interested in a Team Building Session?  Call us at 573-777-7795 or use the contact form below.