Wood Signs
Wood Sign Classes at Paint the Town!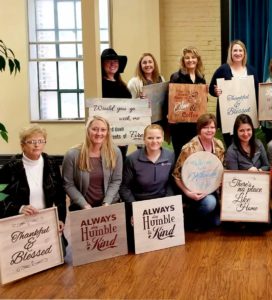 You choose the sign style, and what you want it to say.   There's plenty of samples to choose from below
. Or we can create one for you.
 We provide the stencil, paint and everything you need to create your own wood sign!
Here are the upcoming dates!
Dec 11, 6pm.   SOLD OUT
 Dec 20, 6pm
To reserve your sign for the wood class ,use the PayPal Link below.
1.   Choose the date you wish to attend and the size of the wood panel you would like to paint. Then click on buy now. All wood sign reservations must be prepaid.  For our first class, we are offering  the following sizes … 12in wide pumpkin … 16 x 16 Wood plank, … 16 x 16 Wood Plank with frame … 15 inch round wood plank  … 24 x 17.5 inch connected with sign.
2. Be sure to tell us what you want your sign to say.  There are plenty of samples to choose from below on this page.  Scroll down there are a lot of samples to choose from Below
… If what you want is not one of our samples, we would be happy to consider your request. Just email us a sample of what you like, and we will see if we can create it for you.
3. Click on the buy now button. You do not need a PayPal account to process your payment. You will be offered the choice of using your PayPal account or a valid credit or debit card.   You are also welcome to call us at Paint the Town to reserve your seats 573-777-7795. We can take the payment over the phone.  
Here  are some more wood signs to choose from… click on the picture to see the entire image.